Peace Arch Border - Peace Arch Crossing Time Updated By the Minute! Coming to Vancouver BC? Leaving Canada for the US? Making a quick trip from Surrey BC? Why wait in line to cross the border?
Peach Arch Border - Peach Arch Crossing time information. Update this information by clicking your web browser refresh button!
Did you know? The 2012 federal budget made big changes for cross border shopping. Starting June 2012, your daily limit to $200 if you've been out of country for more than 24 hours. It used to be $50. In addition, if you have been out of country for more than 48 hours, you have a $800 exemption. It used to be $400. Great news for cross border shopping. Read more about the changes on the Government of Canada website, about half way down their page.
Tips for Crossing the Border and Avoiding Traffic:
With the strong Canadian dollar, the traffic to the Peach Arch border and other border crossings is way up. That means delays! The border crossing into Blaine over the summer 2011 are up 30%.
Tip #1 - Going to the USA? This is pretty obvious but leave early! Border officials have officially stated that getting to Peace Arch before 9am is your best bet in beating long border waits.
Tip #2 - When returning to Canada, get to the border before 5pm to avoid traffic waits.
Tip #3 - Consider becoming a Nexus member because you need to consider what your time waiting to cross the border is worth. With a Nexus pass you're waiting usually 30 minutes or less. Read more on the official Nexus website.
Tip #4 - Write this phone number down if you want Peace Arch Border wait times. Call 604-542-4360 (long distance charges apply outside 604 area code). This is a phone number for B.C. Ministry of Transportation border wait times updates.
Stay connected to Peace Arch border crossing times. Bookmark this page! The most updated source for Peace Arch Crossing time including 8th Avenue. Surrey is close to the border so why not plan to use Peace Arch crossing information when deciding when to go? Let us help you! Our goal at VancouverTrafficCams is simple. We want to save you time! It's all about using technology aka webcams and websites to stay updated on traffic issues. Wait times at Peace Arch Border or Pacific Crossing aren't pleasant for anyone. Who has time to sit in their cars waiting? Please let us ease the frustration when you are going to travel. Go to the border when it's not busy! Travel to and from Vancouver BC or Surrey BC with ease. You are at Peace Arch Border to get shopping or to saving money and we can help you get more time to do just that. Use our resources!
You want Vancouver Peace Arch Border traffic cameras? Click here or scroll down this page for traffic cameras at Peace Arch Border.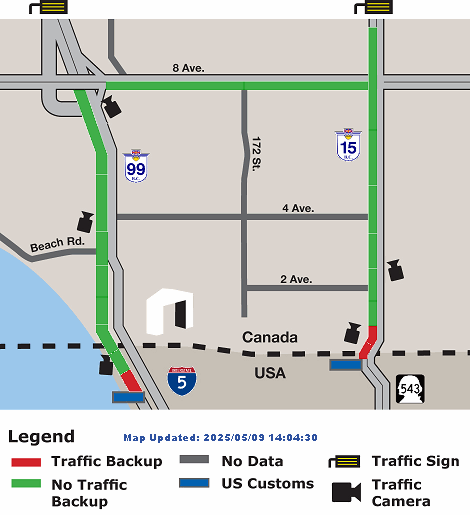 Peace Arch Border Wait Times - Traffic Camera Looking North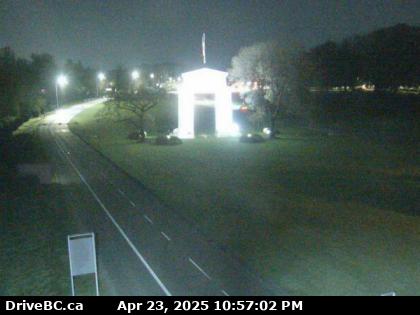 Peace Arch Border Wait Times - Traffic Camera at Beach Road Looking North Highway 99